In the event of a natural disaster, the Business Disruption Search function allows you to quickly identify impacted companies in your region.
Using the Business Disruption Search for Natural Disasters
To begin your EconoVue search, click the ProspectVue tab at the top of your screen.
1 Click Advanced Search. Then select Business Disruption Search in the pop-out menu.
2 Within the Business Disruption Search menu there are 4 filter categories. Select Active Disaster Zone, then click the Active Disaster Zone indicator.
Click the info button
to read more details about the criteria used for each category.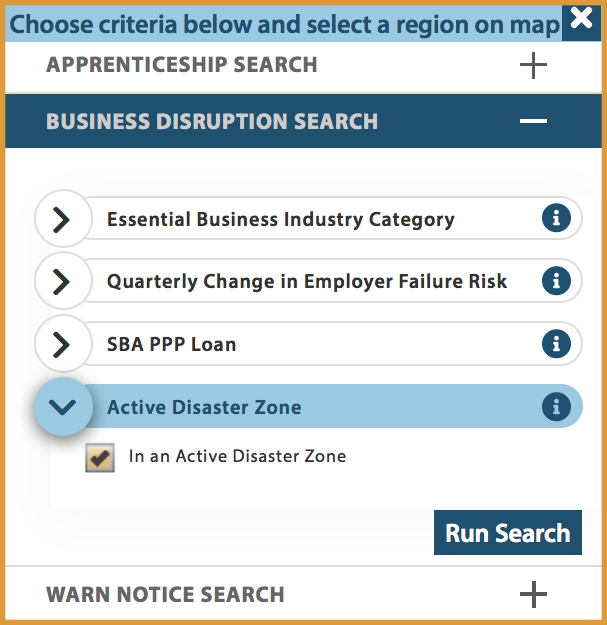 3 Then click the desired area on the map. Your search results will be displayed on the map and listed on the left side of your screen.
4 To further refine your search results, you can layer in additional filters using the ProspectVue Filter drop-down menu.
When searching within an Active Disaster Zone, additional filters showing relevant disaster zones designations are included at the bottom of the menu.
5 For more details about a specific company, click on the desired listing within your search results.
In the resulting company pop-up box, click Company Details and then select Open Business Disruption Report.
6 The resulting information box will let you know more about the factors contributing to the company's disruption category, changes in D&B financial scores and local disaster-specific details (such as COVID-19 statistics or fire zone designations).
6 At any point, click Export/Import List to export your search results in an Excel Spreadsheet. The Business Disruption details will be included for each company.

To include additional company details in your list, such as contact names and numbers, import (save) the company records into My Lists.